New and Used Ford Vans for sale
The whole of the extensive Ford commercial and van range of vehicles having been recently been updated and offering both New and Used vans from the Fiesta, Courier, Transit Connect, Transit Custom, Transit vans and Ranger 4x4 ranges to cover all business needs in the modern marketplace. With load areas of between 1 cubic metre for the Fiesta, being the smallest van in the range through to 14.30 cubic metres for the Transit LWB Jumbo and 508kg through to 4600kg respectively, the range offers a size to fit all business policy suitable for all operators of the types. The lowest range vehicle capacity size is the 1.5TDci which offers 97g/km Co2 through to the 2.2 Duratorq TDci engines powering the Transit ranges, which offer 173g/km Co2 emissions. With further economies made from stop start systems, Ford Vans Europe offer low emissions for all city type vans to avoid congestion charges and such like.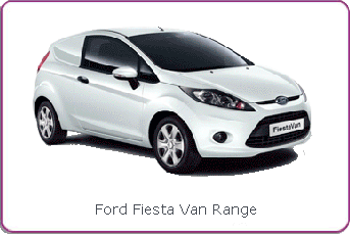 With the choice of Front wheel drive and Rear wheel drive, single and dual axle and in some cases 4 x 4, Single and Dual cab, and chassis options the massive range offers all segments of operation from light city van through to long distance load deliveries.Your choice of commercial vehicle affects the efficiency, productivity and profitability of your business. Making the right choice has never been as important in terms of economy, payload, operational loading,unloading, and overall driving experience.
That's why the new Ford Transit van has been further improved and updated: the've put more new technology in allowing you to get more out. There's a new, more powerful and highly efficient engine range which meets the stringent Stage V European emissions standards. You also have Smart Regenerative Charging, which only charges the battery when it needs it, plus an option on the ECO Pack of an Auto-Start-Stop system, which saves fuel (and money) whenever you have to stop. Combined, these and many other innovations make the Ford Transit more fuel efficient, harder working and better looking than ever before.
Short wheelbase (SWB) vans are ideal for making multi-drops without having to compromise on load capacity. This Transit model can carry three Europallets end to end. There's a choice of roof heights, drive set-ups and doors, whilst it included non glazed barn type doors as standard it includes an optional tailgate to make loading even easier.
The medium wheelbase (MWB) Transit van is tough, reliable and efficient. It comes with a choice of roof heights and drive set-ups, making it a practical, flexible choice for any business.
The Ford Transit long wheelbase van (LWB) is ideal for heavy-duty use. With a huge load length, there's room for four Europallets lined up end to end. The vehicle's payload makes it ideal for towing too, especially if you choose the rear-wheel drive (RWD) version. A Double Cab-in-Van is also available with three extra seats and up to 8.10 cu.m of loadspace.
The definitive van-based carrier, the mighty Transit Jumbo Van has a vast load capacity under its high roof. It comes in single or dual rear-wheel drive versions and there's also a Double Cab-in-Van, with three extra seats and up to 10.8 cu.m of loadspace. To protect both your van and its cargo, all Ford Transit models are fitted with an impressive and comprehensive security package.
When you need to move people and their tools, equipment or luggage, a Ford Transit Double Cab-in-Van is ideal. The passenger area can have a second row of factory-fitted seats to accommodate up to six, including the driver, in comfort and safety. Access to the rear seats is via a glazed side load door, while the fully secured load box keeps equipment out of view when the vehicle is parked.
The NEW range of Ford Ranger pickups offer three body styles and both 4x2 and 4x4 drivetrain options, giving almost every operator a vehicle for the job or a multitude of jobs with ease and comfort.
FordTransitvansforsale.com can offer a wide and diverse range of new and used Ford vans and commercial vehicles for a multitude of uses and needs. Select a Ford van from our options list and view what deals we have on offer today. The Ford name is synonymous with innovation, design and flair through the ages; and these philosophies clearly apply to the complete modern range of Ford vans.
Please call us on 0845 463 0015 or select contact us now...
---